Looking for a truck insurance quote in NYC? How about 3 quotes?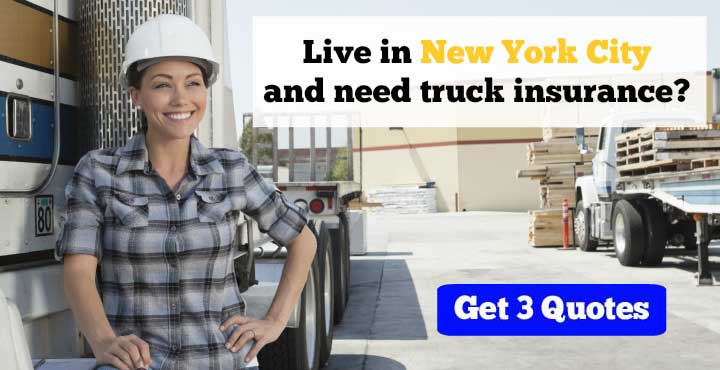 Compare Truck Insurance Quotes
To find the best deal on your semi truck insurance you need to compare quotes. We can help by bringing you 3 agents that will compete for your business.
Complete our short online form and you'll get 3 competitive quotes from 3 top agents licensed in NYC. Simple!

3 Truck Insurance Agents licensed in NYC
Because truck insurance is a specialized product, you need to find agents that understand trucking. We've done the hard work for you and found three truck insurance agents in NYC that are ready to compete to find you the best deal.
By having 3 agents working on your policy, you will be shopping a much broader section of the truck insurance world and greatly increase you ability of finding the insurance company with the best cost and coverage for your rig.
With 3 competitive quotes to choose from, you will be able easily find the best policy at the best price. Semi truck insurance has never been this easy! Don't waste time tracking down three agents. Let them come to you!
Commercial Truck Insurance Companies in NYC, NY
Did you know that the city your truck is garaged in will impact your rates? Rural areas usually result in less expensive premiums than larger cities.
The truck insurance companies that write the most policies in NYC in 2020 are listed below.
Combined they write 82% of all the commercial trucks in NYC.
Top 10 Truck Insurance Companies in NYC
Country-Wide Insurance Co.
Integon / National General
Lancer
NITIC / National Independent Truckers Insurance Co RRG
National Indemnity
Northland
OOIDA
Progressive
Protective Insurance
Sentry
There are also over a dozen truck insurance carriers in NYC, NY that have the remaining 18% marketshare.
Getting quotes from different companies is almost always worth it. We make it easy for you to compare your choices from both the top rated companies, and the hard to find companies.
Compare quotes from different companies here.
Trucking Insurance Coverages
If you are an independent owner operator and leased to a motor carrier, you are probably searching for Physical Damage, NTL/Bobtail, and Occupational Accident coverages. If you have your own authority you'll also need trucking liability insurance and cargo coverage. There are other coverages like trailer interchange and general liability that may you might need as well. No matter which coverages you are seeking for your semi, by getting 3 quotes, you can quickly and easily get the best combination of price and coverage.
NYC, NY Resources
New York Department of Transportation
New York State Motor Truck Association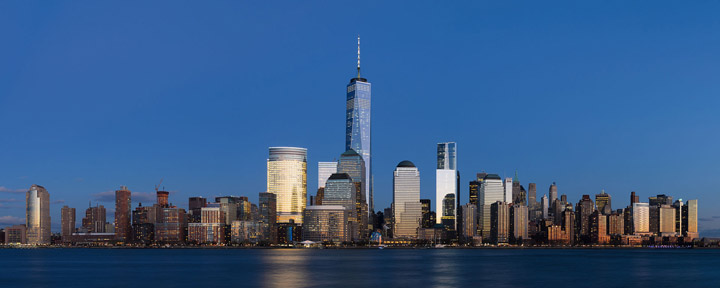 "Lower Manhattan from Jersey City November 2014 panorama 3" by King of Hearts / Wikimedia Commons / CC-BY-SA-3.0. Licensed under CC BY-SA 3.0 via Wikimedia Commons.
Your Business is Unique
You could be a New Trucking Venture or a veteran Motor Carrier. Perhaps you are an owner operator with 1 Power Unit or manage a fleet of 50. You might be a long hauler, or maybe you don't even leave the City that Never Sleeps. The point is that trucking insurance premiums vary greatly between companies.  The tricky part is to find the carrier that is most competitive with your operation. This is where our service excels. We'll help you find that company through a truck insurance competition!
If you are in NYC, Manhattan County, or the surrounding area, let 3 agents compete and quickly find out who saves you the most!