Searching for a cargo insurance quote? Don't get 1 quote. Get 3!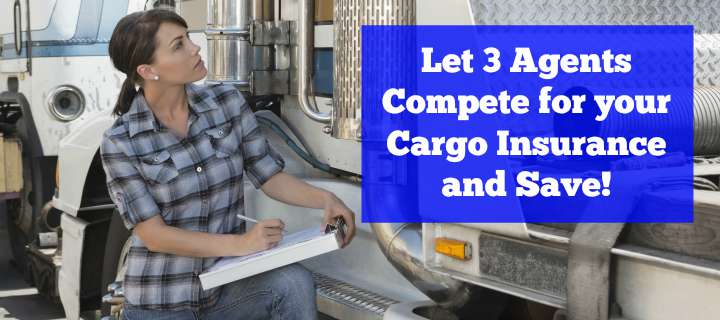 Fill out 1 quick form and we will bring you three different agents to compete for your truck cargo coverage.
Let the quotes roll in and select the winner. Easy!

1. Compare Cargo Insurance Rates from Multiple Agents
The absolute best thing you can do to lower your cargo insurance rate is to shop around. That's easier said than done. Finding a competitive insurance company is difficult. Finding multiple companies that offer cheap cargo insurance coverage within your region—well, that's another story. The only way to know for sure if there is a better deal out there is to comparison shop.
2. Avoid Irrelevant and Repetitive Coverage
It's cheaper for you to get truck cargo insurance that covers only the types of materials you haul than it is to get coverage that insures everything under the sun. For example, if your reefer hauls fruits and vegetables but not meats, your truck cargo insurance policy needn't cover expensive commodities like seafood. It only needs to cover produce.
But what if a lucrative opportunity arises to transport some commodity not covered by your cargo insurance? It's wise to find a cargo insurance company that offers the flexibility to add that commodity to the policy temporarily. That's why it's also a good idea to find an agent who's available at a moment's notice to change your policy and send over a new certificate of insurance. If you have a slow agent that takes four hour lunch break you might lose the opportunity.
3. Higher Deductibles Mean Lower Cargo Insurance Rates
The insurance company will offer you a lower rate if you opt to increase your deductible. In this way, you can reduce your premium by a sizable percentage. Of course, these savings aren't worth it if you have to file a claim and are forced to pay thousands of dollars out-of-pocket. The most important thing is to always keep enough available money to pay for the deductible of some unexpected accident.
4. Watch Your Limits
Your insurance limit is the highest amount the insurance company will pay after you file a claim. So for instance, if you have a cargo insurance limit of $100,000 and an accident incurs $108,000 worth of damage, the insurance company will cover the first $100,000 and you will be responsible for paying the remaining $8,000.
Be aware that cargo insurance rates also depend on the limits of the policy. For example one cargo insurance policy may be the cheapest, but in the fine print, there is only a Clean Up/Debris Removal limit of $10,000. Another, slightly more expensive policy has that limit at $25,000. What if your load of paint spills on the highway and the clean up bill comes to 18k? With a Clean Up limit of $10,000 you'd be responsible for $8,000 instead of having no responsibility beyond the deductible if your policy had a Clean Up limit of $25,000. That's a big difference. Be smart. 
5. Shop for a Better Rate Every Year
No one likes to shop for new insurance, and insurance companies know this. That's why they can slowly increase premiums year after year without losing their customers' business. Other insurance companies want to take business away from their competitors, and they do this by offering much lower initial rates. It's in your best interest to shop the truck insurance market on an annual basis.
Thankfully, it's not as hard as people believe. Just fill out this form and we'll get you in touch with three agents who represent a wide swath of insurance companies that want your new business.