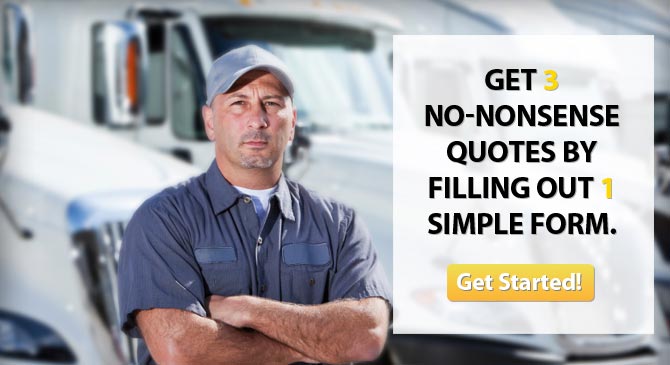 Save money by comparing 3 motor carrier insurance agents at once!

As a motor carrier, one of your biggest expenses is truck insurance. The average cost of insurance for new authorities is $12,000 a year. And that's just for a bare-bones $1,000,000 liability/$100,000 cargo policy. Luckily whether you've been a motor carrier for years or you're just starting out, there are eight surefire ways to save on insurance right now.
1. Get Quotes from Multiple Agents
There are scores of insurance companies out there who want to work with motor carriers. Some offer much lower prices than the others. The trick is rooting them out.
Online tools, like this one, get you in touch with multiple agents all at once, who will each then offer you their best price. You can compare coverages and choose which one best fits your needs.
2. Ask for Discounts
Motor carrier insurance companies often offer discounts to drivers with their CDL as well as motor carriers that have been up and running for over three or so years. Most insurance companies don't advertise their discounts—it's your duty to ask.
3. Increase your Deductibles
After an accident, you have to pay a deductible before your insurance company begins processing the repairs. You have some choice here. You can opt for a low deductible so that in the case of an accident you'll pay less, or you can go with a higher deductible which will be costlier in the event of an accident but will lower your monthly premiums.
4. Pay Your Premium in Full
Most payment plans are structured in this way: you give the insurance company an initial down payment and continue to pay them a small amount each month. However, there's a second option. You can instead pay the entire year's bill upfront. Insurance companies prefer it done this way and they'll offer you discounts—up to 15% off—if you pay in full upfront.
5. Insure All Your Trucks Under a Single Policy
If your business has several trucks to its name, put them all on the same policy. The cost of adding new trucks to an existing policy drops with each successive vehicle.
6. Only Get the Coverages You Need
This one sounds like a no-brainer. Don't buy coverages you don't need. To help you understand which coverages you need, we've broken them down.
Essential coverages
Liability Insurance – This coverage is legally required by the FMCSA and applies to all motor carriers. It includes two parts:

Property Damage – covers accidents where you're at fault and you do damage to another person's property. Pays for repairs.
Bodily Injury – covers accidents where you're at fault and which hurt another person. Pays for hospital bills.

Cargo Insurance – Brokers and shippers won't hire a motor carrier without cargo insurance. This insurance covers accidents in which the hauled freight is damaged.
Near-essential coverages
Physical Damage Insurance – If your semi is involved in an accident, this insurance pays for its repairs. Full physical damage coverage even protects against things like theft, vandalism, and fires.
Bobtail/Non-trucking Liability – If you ever drive your truck without a trailer attached, you will need one of these two coverages. Bobtail protects you when you're still under dispatch and NTL protects you when you're off the job but still driving your rig.
Other coverages
General Liability Insurance – Different from Liability Insurance. This covers accidents related to your company itself, including delivering a load to the wrong place, someone getting hurt on your property, or slandering a load broker.
Umbrella policy – An inexpensive way to cover gaps in your coverage.
7. Stick With It
Truck insurance for motor carriers is always the most expensive during the first year. After that your premiums will drop. Stick with it and your costs will drop.
8. Renew Your Insurance Yearly
Some insurance companies have the bad habit of taking advantage of their customers. After a year with one insurance company, you might find that your rates have risen. You shouldn't stand for this. If you find that your rates are going up, simply shop around for a new insurance company. They will give you a competitive rate in hopes of stealing you away from your current provider.