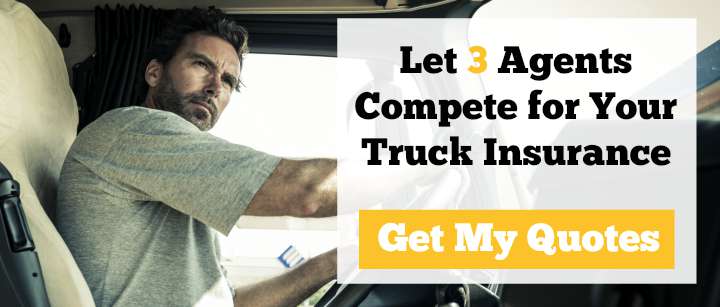 The biggest mistake is not shopping around. We can help make the shopping part easy. Let 3 agents compete for your policy. Just fill out our quick form and we'll bring them to you!

It's easy for the nuanced world of semi truck insurance to confound outsiders. There's a lot that these insurance companies expect truckers to already know—that's why we've compiled this list of 7 mistakes to avoid when you're shopping around for a new semi truck insurance policy.
Mistake #1: Going with the first semi truck insurance company you contact
There are over 100 commercial truck insurance companies out there, some are more competitive than others. It's unwise to trust the first agent you speak with and to assume he can get you the coverages you need, with the best service, at the lowest price.
We recommend that you instead use our form to compare three different semi-truck insurance companies at once. When options are presented back to back, the right choice becomes much clearer. And best of all, these services are free for truckers to use.
Mistake #2: Choosing a company that doesn't offer OEM parts
Original Equipment Manufacturer (OEM) parts are parts identical to the ones that came in your vehicle originally. After an accident semi truck insurance companies will cover repairs but they won't necessarily pay for OEM parts. Instead they will pay only for third-party parts, which are often of lower quality. Ask your representative which types of repairs they cover and whether they pay for OEM equipment.
Mistake #3: Cherry-picking policies from multiple companies
Since commercial vehicle insurance policies can cost so much money, truckers will try to outsmart the system and pick the cheapest liability coverage from one company, physical damage from another, cargo insurance from another, and so on. While these coverages might be seem cheaper when chosen individually, you're actually losing money in the long run. Semi truck insurance companies give truckers discounts when they bundle their coverages. Any small amount that you might save from cherry-picking coverages is negated by a bundled insurance package. Don't waste your time.
Mistake #4: Choosing a company without 24-hour claims service
Since truckers rarely operate on nine-to-five schedules, it makes sense that their insurance companies should be open 24-hours a day, right? Unfortunately, not all semi-truck insurance companies offer claims services that are available on nights and weekends. Ask your representative what times the company can be reached.
Mistake #5: Getting the bare minimum coverage
It's tempting to save a few bucks by forgoing coverages that aren't required by law. While there definitely are some vanity coverages out there, when taken to the extreme, this tactic can ruin you in the long-run. You don't want to find yourself in a situation where your truck or cargo is completely destroyed and you're 100% responsible for replacing the damaged materials.
At the very least, every semi truck insurance policy should cover:
Damage done to other vehicles
Damage done to your vehicle
Damage done to your cargo
Mistake #6: Assuming a big name means good service
Big name companies are very popular among truckers, but that's not necessarily because they are the best. There are dozens of regional and national semi insurance companies out there that might offer better customer service for and a lower price than the big guys. These companies aren't hard to find, either.
Mistake #7: Holding on to old coverage
Another year passes and once again you see your your insurance premium grow a little more. There is no reason to let insurance companies take advantage of you. Trust us: there are plenty more fish in the sea that want to sell you insurance. By shopping the market for a new semi truck insurance company every few years, you can save yourself a hefty amount of money. Don't wait—just do it!