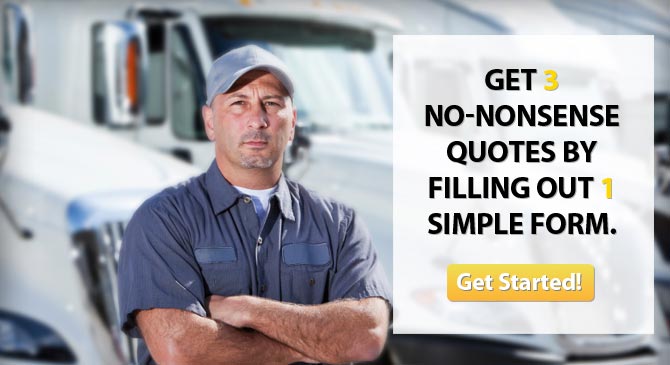 When selecting a truck insurance company to cover your rig, you will be faced with many options. How will you select the best company? There are five main criteria that any truck insurance agency worth their salt will have. Make sure your company has all five before buying your policy.

What To Look For In A Truck Insurance Company
Professionalism
A Solid Reputation
Dedication
Strong Financials
Stellar Claims Service
1) Is Your Truck Insurance Broker a Professional?
First and foremost, the truck insurance broker should display utmost professionalism. You are about to buy a very expensive and often complex truck insurance policy, so you need someone that that is knowledgeable, prompt and courteous. Many trucks are hauling loads without the proper amount of coverage, whether it be too much or too little.
2) Does your Truck Insurance Company have a Solid Reputation?
How long has the truck insurance agency been in business? Some companies get into the business to try and make a quick buck. You want a company that has been writing policies for years, a company that is in it for the long haul. Apart from the agency, how much experience do the individual truck insurance agents have? If you sense that the agent is not experienced, it's time to find someone that is.
3) Is Your Truck Insurance Company Dedicated?
Does your agency specialize in semi truck insurance?  Some agents write truck insurance policies with minimal knowledge about the policies.  Get an agent who is dedicated to educating you about the proper amounts of coverage on a commercial truck insurance policy.  Also, how dedicated will the truck insurance broker be to you after the sale? Will they still help you with your filings?
4) How Financially Strong Is Your Truck Insurance Company?
Many truck insurance companies have the freedom to write policies from multiple carriers. They can shop around and often find you savings. You want to make sure, though, that the truck insurance company that the broker chooses is in a position of financial strength. Ask your broker to give you the Moody, Standard and Poor, and AM Best rating for each company they present to you. These are ratings that show you the financial strength of a particular insurance company.  Do you really want to save a buck by insuring with a weak company?
5) What About Claims?
This is where the real truck insurance companies get separated from the impostors. If you have a claim, can you speak to a live person 24 hours a day.  How fast is the company's response time? Some agents do not want to be involved with the claims process.  Do you want your agent to avoid your calls when you are dealing with a claim?  Many truckers would rather tell their concerns and questions to an agent, rather than an adjuster.  What kind of agent do you have?
Good Luck!
It's often hard to determine if a truck insurance agency has all these qualities when you are shopping around. Everyone wants your business and will make promises. Some will keep their promises, while others only care about signing you up. Asking the right questions while getting your quote should help you make a decision about a particular truck insurance broker.
If your current truck insurance company does not sound like what was described above, then it's probably time to fire them. On the other side of the coin, if you are with a great company, then tell your friends. Save them from dealing with bad truck insurance companies.
Use these criteria when interviewing agents for your next policy. Make sure to also take the truck insurance crash course before talking with the agents.