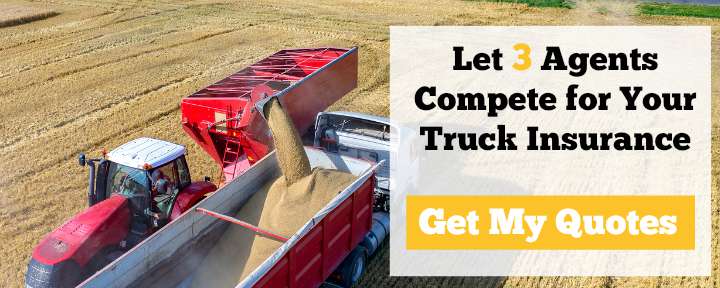 Want the best deal on your Agricultural Truck Insurance? Save big by letting 3 agents compete for your policy. It's Fast, Free, and Efficient!

Let 3 Agricultural Truck Insurance Companies Compete!
Whether you haul grain, produce, milk, or livestock, you need to find an insurance company that understands the ag business and the specific risks you face.
It's important to find an insurance company that meets your unique needs. That's why we've set up this free **Request 3 Quotes** tool, which gets you in touch with three different agricultural truck insurance agents at once. They will send you an offer and you can pick the one that best fits your business.
Ag Trucking Insurance Coverages
Since each ag operation is different based on the types of materials it hauls, no insurance policies look the exact same. For example, a milk tanker doesn't need the same protections that a grain hauler does.
Below you'll find a list of the most common types of coverages found in an agriculture truck insurance policy. From there you can determine which coverages you need.
Liability Coverage – When you're at fault in an accident, this coverage pays for damage done to others' property. It's required by law everywhere from Kansas to Kentucky.
Collision Coverage – Covers damage done to your vehicle during a collision.
Comprehensive Coverage – Covers damage done to your vehicle outside of a collision. Examples of non-collision damage include vandalism, fire, theft, and acts of nature.
Cargo Insurance – Insures the freight you carry. The price of this coverage changes based on which commodities you choose to insure.
Refrigeration Protection – If the refrigeration system in your reefer breaks down, this coverage pays for the replacement of destroyed perishables.
Debris Removal – Pays for the pick up of non-hazardous cargo spilt on the roadway.
Lower your Agriculture Truck Insurance Cost
Most trucks cost around $10,000 per year to insure. Be mindful that this is the average, and depending on where you live, how long you've been driving, and how many trucks you're insuring, your rate can go up or down. There are, however, several proven ways to lower your costs.
Compare Rates from Multiple Agents
Sometimes the first agent you speak to will offer you the lowest price. But not always. Use our **Get Three Quotes** page to get in touch with three agents at once for free.
Get the right coverages
Don't need roadside assistance? Nix it. No use for refrigeration protection? Let your agent know. The fewer coverages you have, the smaller your premium. But don't opt out of something that you could potentially use later. It's better to be safe than sorry.
Get the right Limit
Your limit is the highest amount an insurance company is willing to pay per accident. They will offer you a lower premium if you agree to a lower limit. Make sure your operation is not over or underinsured.
Raise your Deductible
If you have enough cash on hand, consider raising your deductibles. In the event of an accident you will be responsible for a higher out-of-pocket cost, but you also won't have to pay as high a premium.
Pay once a year
If you pay your entire premium in a lump sum, the insurance company should offer you a lower rate. If you have the money on hand, do this. It'll save you money in the long run.